The wedding and bridal photography community has been talking about "THE Dress". It's never mentioned by a brand name or linked to, it's kind of a secret.
It's known to be super cheap, super sexy, and photographers and their subjects have been doing amazing things with it. It's great for bridal shoots, maternity shoots, or styled shoots. It's often used for Milk Bath photography as well, because it's cheap enough to be disposable, and looks great.
On Amazon, this dress is listed as ZIUMUDY Sexy Deep V-Neck Long Sleeve Lace Beach See-Through Maternity Maxi Dress and is sold by ZIUMUDY.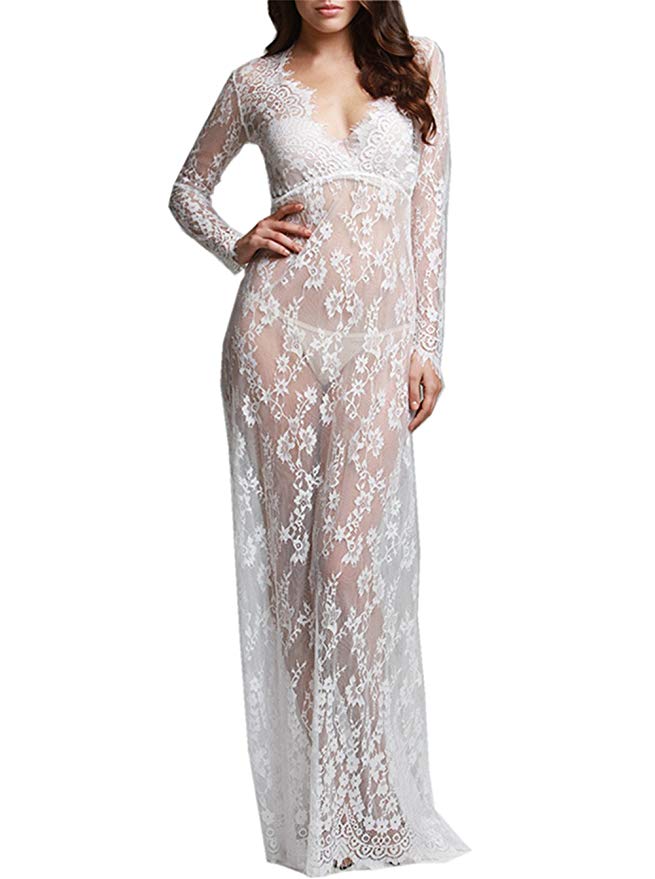 (Years ago, a similar listing was sold by a company named Yomoko.)
Another listing, with less reviews and color options, is the Wispun Sexy Deep-V Long Sleeve Lace Beach Dress See-through Mullet Dress and is sold by Wispun.
It comes in sizes Small through XX-Large (reviews say to buy a larger size than you would expect) and comes in 11 different colors. White is very popular for bridal and wedding photography, but we've also seen cool things done with black and other colors.
Also see similar these options ("THE Dress" often pops up under different vendors, but the look and price range should be the same.)
COSYOU Maternity Dress Sexy Off Shoulder Gown Dress Women
Saslax Women's Off Shoulder Ruffle Sleeve Lace Maternity Gown Maxi Photography Dress
Laisiyi Sexy Deep V-Neck Lace Beach Dress See-Through Long Sleeve Maxi Dress
It is a sheer lace, which means that "THE Dress" can be seen through. This can be good, or not, depending on the look and level of scandal that you are going for.
Some options for what to wear underneath:
Nothing
Nude or white bottoms (could be a thong) and a nude or white lace bralette.
High waisted nude spanx and a matching bra
Leotard, Deep V body suit, V-Neck cheeky bodysuit, white/nude/cream bodysuit
Floor length, form fitting nude slip
White stretch fabric tube dress
If you are a photographer or model who has taken pictures with the dress and would like to be featured on our site, please contact us!