The imgur comments about the below image contain some distinguishing quotes that illustrate some differences between men and women.
So many men emphasize how much joy it brings them to catch a glimpse of their long-time partner naked. Not like, "that's kind of nice" joy – we're talking, "this is the greatest moment ever nothing is better yayayayayaaya life is so great" joy.
So many women don't get it or don't believe it.  Let's fix this.
First time… Second time… 485th time…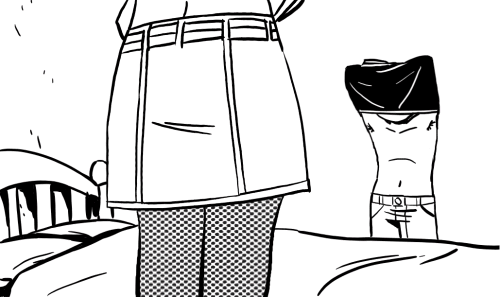 Quotes from Men:
My wife frequently works way earlier than me. Her boobs wake me up from across the room when she takes off her pajamas to get dressed.
My lady will change in front of me while we're talking. She thinks I can still hear her over the deafening sound of free boobs in the room.
After 14 years I still look at my wife that way. Lucky for me she's aging like wine.
Been with my wife for 23 yrs, same here. I go in to bathroom with lame reasons while she showers just for a daily peek.
13 years here, and I don't even bother with a reason. I downright go there to check her out.
I've seen a sunset a thousand times as well, doesn't make it any less beautiful…
I fight this battle all the time with my beautiful wife of 13 years. Why can't wives believe us? WE LOVE YOU AND THINK YOU'RE HOT!
Married for an eternity, still the same. Still the same sexy girl I met.
29 years on the 14th. yup.
She's been getting naked in front of me for.. 14 years now, and I see it at least once a day, and i still love it.
Oh yeah. Thirty years in, I am still mesmerized.
Quotes from Women:
I'm a wife. My husband tells me the same. And no, I don't get it. I don't see how my body can still be exciting. Especially since it's not.
I have terrible self esteem issues, yet my boyfriend looks at me naked every time and almost drools. Its amazing what love does!!
I am a woman and don't get it, but am enjoying how many of the boyfriends/husbands out there have these stories to share.
As a woman, is it honestly like this for men? I've always thought it gets old for you guys and are like, "whatever."
My husband is the same but I was assuming he was just making appreciative comments to make me feel nice.